Moldex Catalogues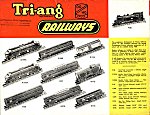 These were issued as separate Catalogues between 1958 and 1963. From 1964 to
1971 they were supplements that only showed locally made sets and models not
in the R.280 UK Catalogue. During the Moldex period they were supplied
separately, rather than included with the UK Catalogues.
The early Australian Catalogues were designed in the UK and usually had UK
models in the photographs. Because of this, the details and colours were not
generally accurate for the models as actually sold in Australia. The early
designs seem to be based on contemporary TT Catalogues.
Information and photographs courtesy Graeme Brown