Tri-ang Australian
Tri-ang Railways Moldex R.159A Double Ended Diesel
1960 - 61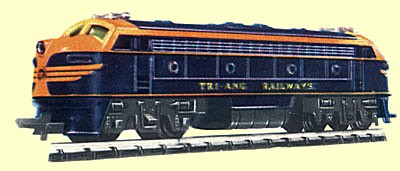 Illustration used in the 1960/61 Australian Catalogue. The model shown is
actually the UK version.
Both the powered R159A and unpowered R250A versions were made, but because
it was not used in sets during this period, the dummy loco. is rare.

R.159A Double Ended Diesel
This second version of the R.159A and R.250A made by Moldex more closely
resembled the contemporary UK version, although the 1960 nose wings were
still the VR version. Sometime in 1961 the nose wings changed to the UK
version with the red TR badge in the centre.
This version had eyelets fitted to the headlights and the side portholes.
Fuel tanks were blue and the early models tend to be lighter in colour.
The only known variation in the models is the change to the UK version of
the nose wing transfer sometime around 1961.

R.250A Dummy End
Information and photographs Graeme Brown