Tri-ang Australian
TransAustralia Moldex R.159A Double Ended Diesel
1962 - 67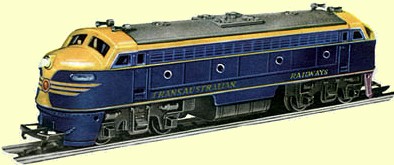 Illustration used in the 1962/63 and 1964 Australian Catalogues. The model shown is a UK model and this colour scheme and lettering was never used by
Moldex.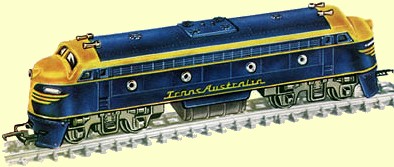 Illustration used in the 1965, 1966 and 1967 Australian Catalogues. The
model shown is a UK one but the colour scheme and lettering is that used by
Moldex from 1962 until production ceased in 1967.
Only the powered R159A version was made in this version.

R.159A Double Ended Diesel
The third and final version of the R.159A made by Moldex was in production
for the longest period and shows more variations than the earlier models. It
is probable that several batches were made between 1962 and 1967.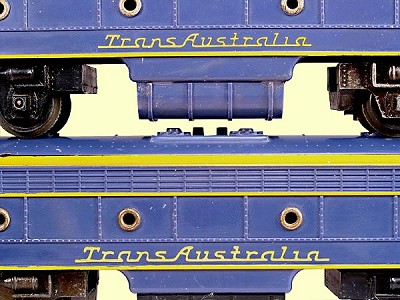 The TransAustralia lettering was usually the larger 65 mm long tool, but
models can be found with the shorter 55 mm lettering usually used on
coaches. This version of the R159A can be found with either black or blue
fuel tanks and occasionally with black instead of blue cowcatchers. The
shade of yellow paint also varied and was usually darker than the earlier
models.

A TransAustralia R.250A was listed in the 1962 Australian Catalogue and pricelist, but it is likely that it was never made and was included to sell off the remaining models of the previous version. Dummy TransAustralia models can be found, but are likely to be conversions from the powered model, as the model design makes this easy to carry out. Usually the headlights and wiring are left in place. Even if the wiring has been removed and window inserts from a dummy have been fitted, the body will still show wear around the motor bogie pivot, as shown in the photo below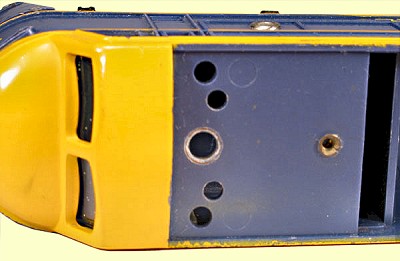 Information and photographs Graeme Brown