Tri-ang Australian
Moldex R.159A Double Ended Diesel
(R.250A Dummy)
1958 - 1967

Photographs of a Victorian Railways B Class diesel electric
locomotive, which is believed to be the prototype of the Tri-ang model.
Twenty-six of these Clyde-GM locomotives were built in Australia between
1952 and 1954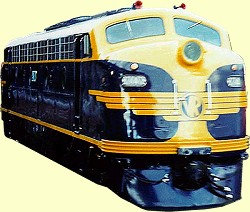 The nose transfer and the shades of blue plastic
and yellow paint used by Moldex changed over the years. Left to right, 1965,
1962, 1960 and 1958 versions of the Moldex
made R159A
double ended diesel.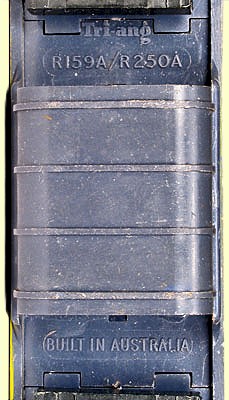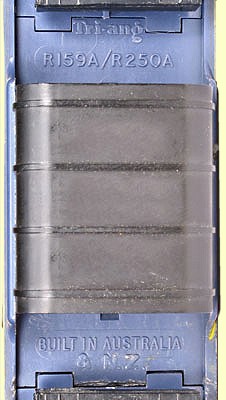 The 1958/59 Moldex models were made before the tooling was sent to New
Zealand, where the 'Made in Australia' label was modified and had '& NZ'
added. Moldex models from 1960 onwards had the modified label.

Close-ups of the cab area showing some of the the differences between the
Aust./NZ tooling and the UK tooling. The UK models have a gap in the cab
handrails to make lining easier and the lining is also narrower on the UK
models. Also note the different dumbell shapes over the central bolster
spring.
Information and photographs Graeme Brown