Tri-ang Australian
Moldex R50 Black Princess Victoria Locomotive
and R30 Tender
Tri-ang Railways
1962 – 1963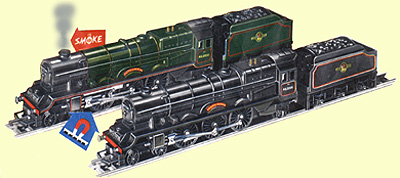 This illustration was used in the 1962-62 Australian Catalogue, although the models shown are UK versions.

In 1962 Moldex introduced a green Princess Elizabeth, so the black model was renamed 'Princess Victoria' and downgraded to a similar specification to the black UK model, with sintered iron wheels, no valve gear and no 'Magnadhesion'. The cabside numbering tool was not modified and the incorrect number 46201 from the previous version continued to be used.
The model was used in the Australian RS21 set and was available separately only in 1962. It was withdrawn as a separate model in 1963, but was still available in the set.

A rare version of the 1962-63 black Australian Princess can be found with 'Princess Elizabeth' nameplates, printed with the same tool used on the green R53 version.
It is not known if this was done deliberately to match the cabside number, or if the 'Princess Victoria' tool had been damaged, or if it was used in error on only a few models.
Information and photographs Graeme Brown