Tri-ang Australian
Moldex R50A Black Princess Elizabeth Locomotive
and R30 Tender
1959 – 1961

This illustration was used in the 1959 Australian Catalogue although the model shown is actually a UK made R258 'The Princess Royal' in red. The caption suggested that the models were an R53 'Princess Elizabeth' and R31 tender, but there seems to have been some confusion, as the 1959 Australian pricelist describes the model as a black R50A 'Princess Victoria' with valve gear and an R30 tender.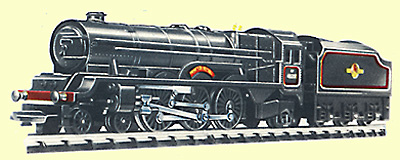 This illustration is from the 1960-61 Australian Catalogue. The model shown is actually a UK made 'Princess Victoria', fitted with valve gear to resemble the Australian version of the model.

Contrary to what was suggested by the 1959 catalogue and price list this is the version actually produced by Moldex in 1959 and 1960. This is 'Princess Elizabeth' in black with with a built up chassis, valve gear, solid diecast wheels and heat printed lining, rather than the transfers used on UK models. The printed lining is more durable, but looks cruder than transfers. The locomotive and tender were available separately and the model was also used in the 1959 R3F set and the 1960 R3FA set.

The 1961 model was similar to the previous version, but was fitted with an updated chassis which included improved valve gear, see through wheels, 'Magnadhesion' and a chassis suitable for fitting with a Suethe smoke unit. Note that the model shown above has the BR totem on the tender facing the wrong way, which was common on these models.
The loco. and tender were available separately and were also used in the 1961 version of the R3FA set. Some models made in 1961 were factory fitted with Suethe smoke units, but these were available only in the 1961 R3MA set, which was otherwise the same as the R3FA.
Information and photographs Graeme Brown