Tri-ang Australian
Moldex R152 Diesel Locomotive
1959 – 1967
and
Moldex R256 Clockwork Locomotive
1959 – 1963
In 1959 Moldex began manufacturing the R152A and R256A electric and clockwork model locomotives using a new tool made at Margate. This tooling was shared with New Zealand and the Moldex models were assembled from Australian made plastic mouldings, motors and couplers, fitted to electric and clockwork chassis sourced from the UK. The R152A used the same 0-6-0 chassis as the Australian made R52A Jinties and can be found with various versions of this chassis, which can help date the models.
Similar prototype shunting locomotives were built by English Electric for the Victorian Railways as their F class in the early 1950's. The State Electricity Commission of Victoria also used some for shunting at power stations. While Moldex made no attempt to sell models in the colours of the VR or SECV, Hornby later made the UK version of the R152 in VR livery, as part of their Australian range during the 1970's.


The models first appeared in the 1959 Australian Catalogue and between then and 1967, Moldex made four known versions of the electric model and two of the clockwork version, not all of which appeared in the catalogues and price lists. They were also used in one electric train set and three clockwork train sets between 1959 and 1963. The electric R152A model was produced up until the end of Australian production in 1967, but the clockwork R256A had been discontinued in 1963.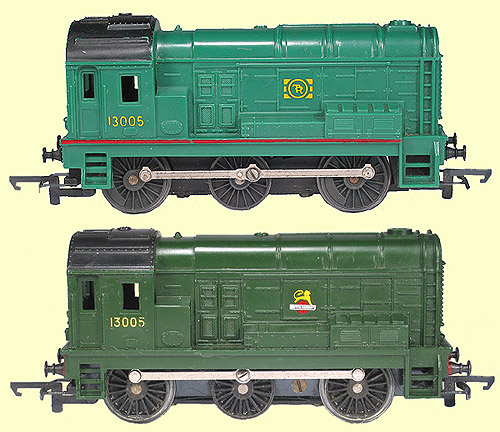 Apart from the colours used, the major visible differences in the body moulding between the Australian and UK versions, can be seen in the above illustration, with the Australian model on the top. The Australian model has a more prominent cab and the cab step is not directly under the door of the cab and there are differences in the details. The Australian/NZ body is also missing the circular riveted plate that disguises the clockwork winder insert on the UK model. The Moldex models were usually fitted with Australian made buffers, which were heavier than the UK made ones.
The Australian made locomotives were numbered 13005 and printed with the TR wings, rather than BR insignia. Models with BR insignia and no cabside number that can be found in Australia are the New Zealand built version.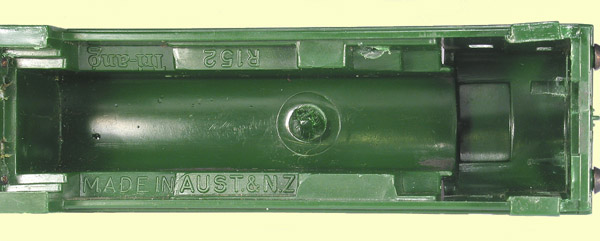 Both the electric and clockwork models made by Moldex shared the same body moulding. The inscription on the underside of the body was always R152 MADE IN AUST. & NZ and it was never modified to include the R256 clockwork version.
The body of the clockwork version had jig drilled holes for the winding key and the control rods. Marks from drilling the control rod holes can be seen under the cab roof in the above photo of a clockwork body, as well as the drill swarf left on the winder hole.
Information and photographs Graeme Brown