Tri-ang Australian
Moldex Building and Lineside Accessories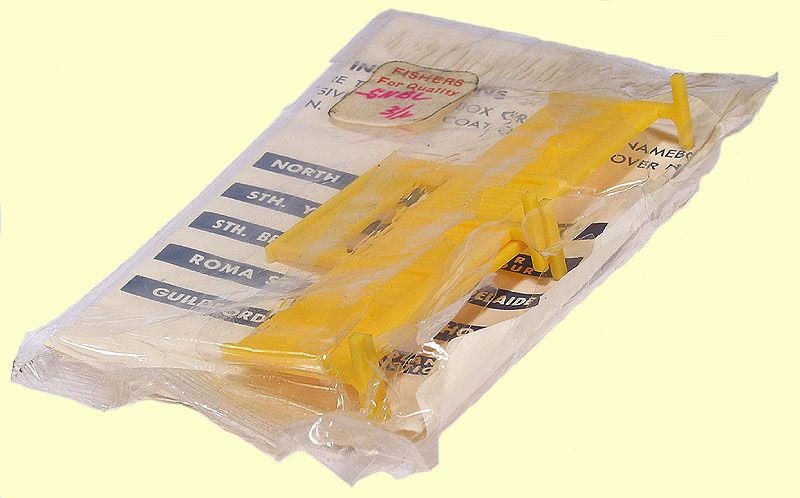 Moldex R68 Station Name Boards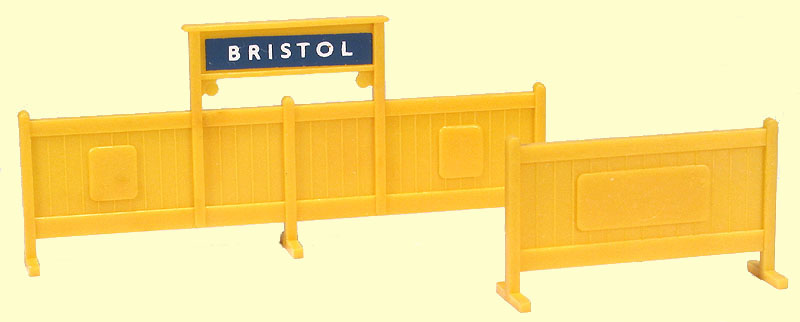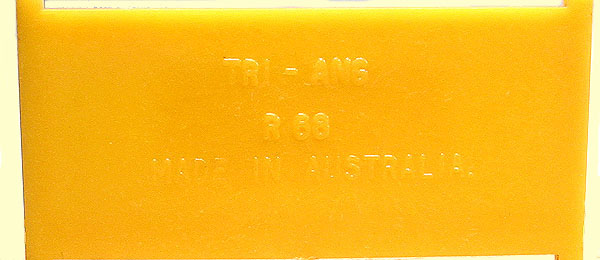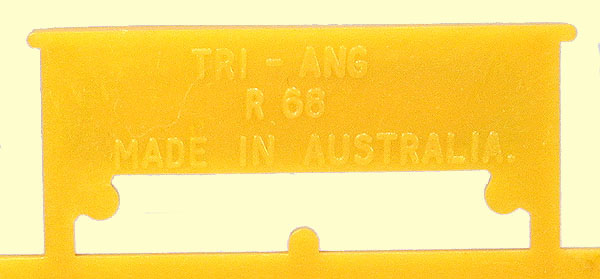 Introduced with the other station buildings in 1958, the name boards also remained available until 1967. They were available separately and were also used in the Australian station sets.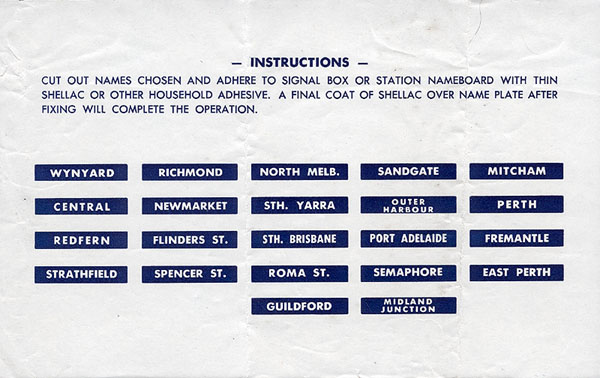 Early models were supplied with the same printed sheet of Australian station names used with the R61 Signal Box. The labels were intended to be applied by the purchaser. At some stage, this practice was stopped and models were supplied with UK sourced transfers already applied. Later ones possibly had no names applied at all.
The station names supplied were all from the mainland state capitals and probably by accident some names chosen occur in more than one city. The table below shows which names came from which city. The choice of names is odd as most are large suburban stations, some are major city termini and one is an underground station.
Station Name

City

State

Wynyard

Sydney (underground station)

NSW

Central

Sydney (main city station)

NSW

Redfern

Sydney (major suburban junction)

NSW

Strathfield

Sydney (major suburban junction)

NSW

Richmond

Melbourne (major suburban junction)

also Sydney (outer suburban station)

Vic

NSW

Newmarket

Melbourne (suburban junction)

Vic

Flinders St.

Melbourne (main city suburban station)

Vic

Spencer St.

Melbourne (country & interstate terminus)

Vic

North Melb.

Melbourne (major suburban junction)

Vic

Sth. Yarra

Melbourne (suburban junction)

Vic

Sth. Brisbane

Brisbane (suburban & interstate terminus)

Qld

Roma St.

Brisbane (main city station)

Qld

Sandgate

Brisbane (outer suburban terminus)

Qld

Outer Harbour

Adelaide (suburban terminus)

SA

Port Adelaide

Adelaide (major suburban station)

SA

Semaphore

Adelaide (suburban station)

SA

Mitcham

Adelaide (outer suburban station)

also Melbourne (suburban station)

SA

Vic

Perth

Perth (main suburban and country station)

WA

Fremantle

Perth (suburban terminus and Port)

WA

East Perth

Perth (suburban station)

WA

Guildford

Perth (suburban station)

also Sydney (suburban station)

also Victoria (small country station)

WA

NSW

Vic

Midland Junction

Perth (suburban junction and workshops)

WA