Tri-ang Australian
Moldex R50/53/258 Princess Class Locomotive
and R30/31/34 Tender
Tri-ang Railways
1959 – 1967
In 1959 Moldex began manufacturing the R50 Princess class locomotive using the original Rovex tooling, that had been set aside in the early 1950's. The tooling was repaired and updated before shipping to Australia. The tools were shared with New Zealand and the Moldex models were assembled from Australian made plastic mouldings, motors and couplers, fitted to chassis sourced from the UK.

The model first appeared in the 1959 Australian Catalogue and between then and the end of production in 1967, Moldex made seven known versions, not all of which appeared in the catalogues and price lists. They were also used in six catalogued train sets and at least one custom set over the same period.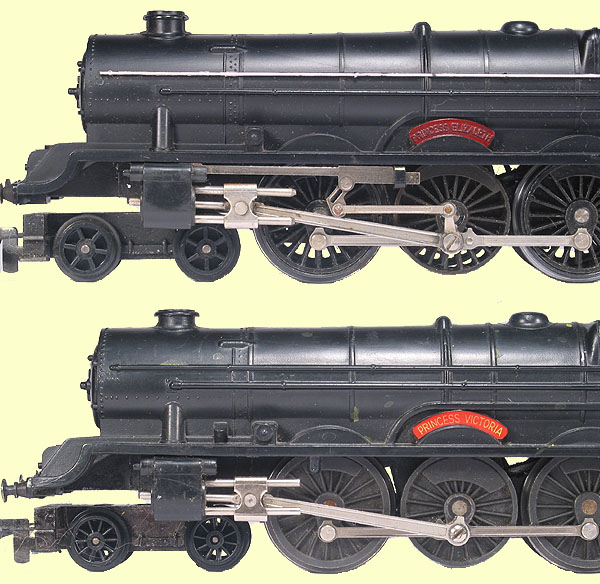 The major visible differences in the loco. body moulding between the Australian and UK versions of the Princess, can be seen in the above illustration with the Australian model on the top. The Australian model is missing the sandbox filler between the steampipe and the lubricator, there is no builders plate on the front wheel splasher, the nameplate is shorter and the topfeed cover is further forward on the boiler. The original 8 spoke bogie wheel tool was also sent to Australia/NZ and these were usually fitted, along with Australian made buffers, which were heavier than the UK made ones. Aust. made locos. also had white painted handrails, even on the black versions.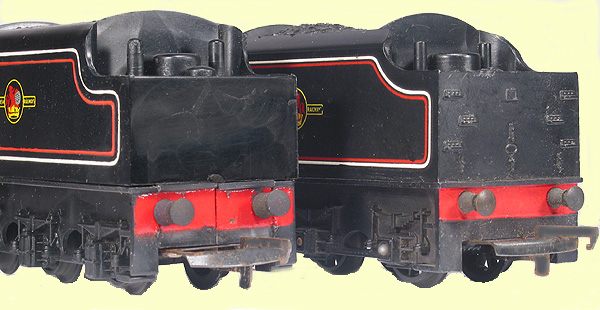 The Australian tender was also made using the original Rovex tooling, modified to use the Mk3 coupler and thus differed from the later UK version, as shown above. The underframe was in two pieces with closed axleboxes and plain bearings, the tender sides were higher with a different shape, there was no detail on the back and the body was glued to the underframe, rather than screwed together. Aust. tenders were usually fitted with the small disc wheels used in bogie wagons, or the slightly larger ones used with the short TC passenger cars.
Information and photographs Graeme Brown