Tri-ang Australian
Other Moldex Assembled TC Freight Cars
1960 – 1964
In 1960 Moldex began assembling some of the TC freight car range from a mixture of local parts and parts imported from the UK . While the models chosen were based on North America practice, Australian railways also used bogie cars of similar types. The colours and liveries were the same as the UK made TC range and not representative of Australian railways. The track cleaning car was available from Moldex until 1964 and the tank car was available until 1963, but the cement car and pulpwood car were only available in 1960/61.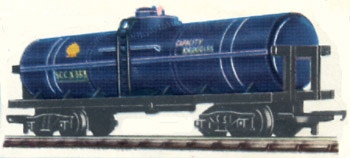 1960/61 Australian Catalogue illustration.

R117A SHELL Tank Car
The models were fitted with Australian diecast metal archbar bogies with MkIII couplers, sleeved wheels and open bearings. The body parts were imported from the UK in finished form and were the same as those used in the UK TC range at the time. Models have been reported with BP transfers rather than the normal SHELL. All models assembled appear to have been the blue version.
The tank cars were not used in any Moldex made sets and were only available separately.
The later version of the blue tank car with the square SHELL transfer was shown in the 1967 Australian Catalogue, but these appear to have been fully imported UK models, although they may have been repacked in Moldex boxes.
Information and photographs Graeme Brown