Tri-ang Australian
Moldex R116A Gondola

Illustration used in the 1962 and 1963 versions of the 62-63 Australian Catalogue, the 1964 Australian Catalogue and the 1965 Australian Catalogue.

R116A Box Car – Tri-ang Railways
This version introduced the Express Delivery lettering, but although the catalogues show it with a TR shield and a wagon number, it is always found with just the TR script. Most examples have metal bogies as shown and there may also be a version with plastic bogies. Used in the R4Z set and also available separately.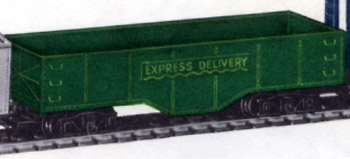 Illustration used in the 1966 Australian Catalogue and the 1967 Australian Catalog.

R116A Box Car – Triang Railways
This was the last version made by Moldex, but has 'Made in New Zealand ' moulded underneath. Either the insert was lost, or it was forgotten when the last batch of bodies was made. Used in the R4N set and also available separately.
Information and photographs Graeme Brown