Tri-ang Australian
Moldex R116A Gondola
1958 – 1967
The Australian R115A Gondola was based on the original UK made R115 TC Gondola. The model was loosely based on North America practice and while Australian railways used bogie open wagons, there was little resemblance between the models and contemporary Australian wagons.

1962 Australian catalogue illustration.
Moldex shared the tooling for the Gondola with New Zealand . During the Tri-ang and Tri-ang/Hornby period between 1958 and 1967 they were produced with three lettering variations and in three known colour variations. They were used in various sets during this period and were also available separately.
Models were fitted with Australian diecast metal bogies of the early TC pattern with MkII couplers, sleeved wheels and open axleboxes in 1958 - 59. In 1960 a new Australian made diecast archbar bogie was introduced using MkIII couplers, sleeved wheels and open bearings. From about 1963 until production stopped in 1967, the models were fitted with Australian plastic bogies which used MKIII couplers and the unusual arrangement of sleeved wheels on a pinpoint style axle.
The tooling was originally made for New Zealand and carried 'Made in New Zealand ' on a circular insert. A 'Made in Australia ' insert was used as shown below, when production started in 1958. This seems to have been lost or forgotten around 1966, as the last Moldex made gondolas have the 'Made in New Zealand ' insert.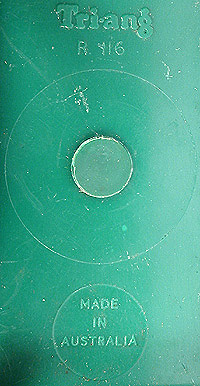 The versions produced by Moldex are summarized in the table below.
| | | | | | | |
| --- | --- | --- | --- | --- | --- | --- |
| Cat. No. | Lettering | Number | Colour | Coupler | Bogie | Years |
| R116A | Tri-ang Railways - white | 22831 | green | MkII | Metal | 58-59 |
| R116A | Tri-ang Railways - white | 22831 | green | MkIII | Metal | 60-61 |
| R116A | Tri-ang Railways - white | 22831 | brown | MkIII | Metal | 61? |
| R116A | Express Delivery TR - yellow | - | brown | MkIII | Metal | 62-63 |
| R116A | Express Delivery - yellow | - | green | MkIII | Plastic | 64-67 |
Information and photographs Graeme Brown