Tri-ang Australian
Moldex R114A Box Car

R114A Box Car – Tri-ang Railways
Around 1963 the bogies were changed from metal to plastic, but the model retained the white body with black Tri-ang Railways lettering.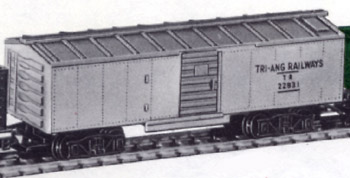 Illustration used in the 1966 Australian Catalogue and the 1967 Australian Catalogue.

R114A Box Car – Triang Railways
By 1966 the model no longer had working doors, but was otherwise unchanged. The doors were glued in the closed position. Used in the R4N set and also available separately.
It is not known if the door change was an economy measure, or if the supply of pressed tinplate door runners had run out.

R114A Box Car – Tri-ang Railways
This is possibly the last version made in Australia . The doors are glued closed and the plastic is a translucent orange, with the same black lettering used on all previous versions of the Australian made box car.
Information and photographs Graeme Brown